When we talk about of Spanish architecture, we often think of gilded stuccos, intricate arches, colorful tiles or open courtyards with ornamental balustrades. However, Ibiza is a world unto itself. The hallmark of the new Ibizan style is elegant, white and minimalist. And, as we will see next, these aspects aren't only the product of a new trend, but rather for centuries formed part of Ibiza's rural architecture.
During the 30s intellectuals from various fields visited Ibiza, getting some of them to spend long periods on the island. Among them were architects belonging to the GATEPAC group, like Josep Lluís Sert and German Rodriguez Arias, aswell as fellow German architect Erwin Broner. All of them were fascinated by traditional Ibizan architecture. Above all they found Ibiza's traditional finca as an austere, practical and fully functional home, representing perfectly the basics of concept and identity of modern architecture. Although long before the minimalist discipline and the Bauhaus school, these architects were surprised at how the Ibizan finca mostly met the guidelines that marked this new trend. The ibizan rural house fascinated by its simplicity, the functionality of each element, its integration into the landscape, all built in a rational way that captivated these modern architects of the time.
As architect Josep Lluís Sert explains, according to a transcript of his speeches in the symposium held at the Museum of Contemporary Art of Ibiza in 1973, when it comes to Ibiza's traditional rural architecture:


"This simple, white, rational architecture had a dimension and a human scale. The houses were obeying human needs and not responding to architectural orders of other times and cultures. We saw that this special and popular architecture had some constants. We could not tell what century this or that house was build, as this became irrelevant, because hardly anything changed in this type of architecture over the centuries. It was a perpetuation of forms endorsed by use. "
And it is especially in the perpetuation of forms endorsed by use and in the obedience to human needs, where we find the main link between the Ibizan rural architecture and architectural minimalism. Also, its possible to see that the traditional Ibizan finca meets most of the properties that define minimalist architecture:     

–

Simplicity




-Basic r

ectilinear geometry




–

Façade importance


–

Literal use of material


–

Austerity. Absence of ornaments


–

Structural and functional purism


–

R

eduction and synthesis




-Consolidation



-Abstraction
-Economy of means
And, if the remaining three characteristics (Dematerialization, Order, Industrial production and standardization) are not being met or only partially, it is more due to technological advances and resources not available at that time, than due to a logical or natural development by this architectural discipline to comply with them.
The modern concept of the Ibizan fincas build by the architects of Blakstad Design Consultants, founded by Rolph Blakstad, could in fact represent what could be the natural evolution of the Ibizan rural architecture into a modern version of itself. To adapt to modern trends and requirements, these homes have been appropriated with minimalist elements to solve some of the major problems of the old fincas, but with a strong influence of traditional Ibizan finca design. The availability of modern materials, techniques and machinery allows, among others, to raise ceilings, structures that increase exterior light, roomy and diaphanous interior spaces and to expand sizes of rooms and entrances.
© Kelosa | Ibiza Selected Properties

Modern villas in Ibiza usually have diaphanous floors and large windows, maximizing the views of the islands mediterranean landscapes. Among the Ibizan modern houses purely minimalist styles can be found, but also influences of other architectural disciplines such as Blakstad style or designs that combine both modern and traditional disciplines, with one or another more prominent.
A good example of a recent trend is the country estate Can Basso, as the result of a respectful renovation of an old finca over 300 years old. The architect did not remove any element of the original structure of the country house, but has changed some interiors, to be suited for latest trend designs in space and furniture, and added a few minimalist design elements like pool, windows, walls and garden. The result is an elegant combination of both disciplines, with a clear greater role of the original Ibizan finca style.
Finca Can Basso -© Greg Jouslin/F. Dimmers

Another example is Can Durban, designed by Belgian architect Bruno Erpicum. Erpicum projects are known for a purist minimalism: large, white, bright villas and in search of infinite lines. In this case his work shows us a reinterpretation of the traditional house of Ibiza, with a strong role of minimalism. The result is, for example, frameless windows to benefit from wide views of the landscape, or prolonged and roomy interior spaces, providing what once was a traditional finca with a fundamentally minimalist architecture.
                           Pictures: Can Durban /© AABE – Atelier d'Architecture Bruno Erpicum & Partners
Minimalist architecture, at its core, reduces the structure to its basic elements, simplifying the design of spaces and providing serenity and tranquility, which are, in a sense synonymous with Ibizan style. The minimalist elements typically include pure materials from basic manufacturing, that harmonize effortlessly with natural light, form and space. With its roots in Japanese traditions and the Zen philosophy, minimalism is based on the transmission of calm through the essence, using the aesthetic principles of open spaces and the absence of unnecessary clutter that can be caused by architectural ornaments or decorative elements.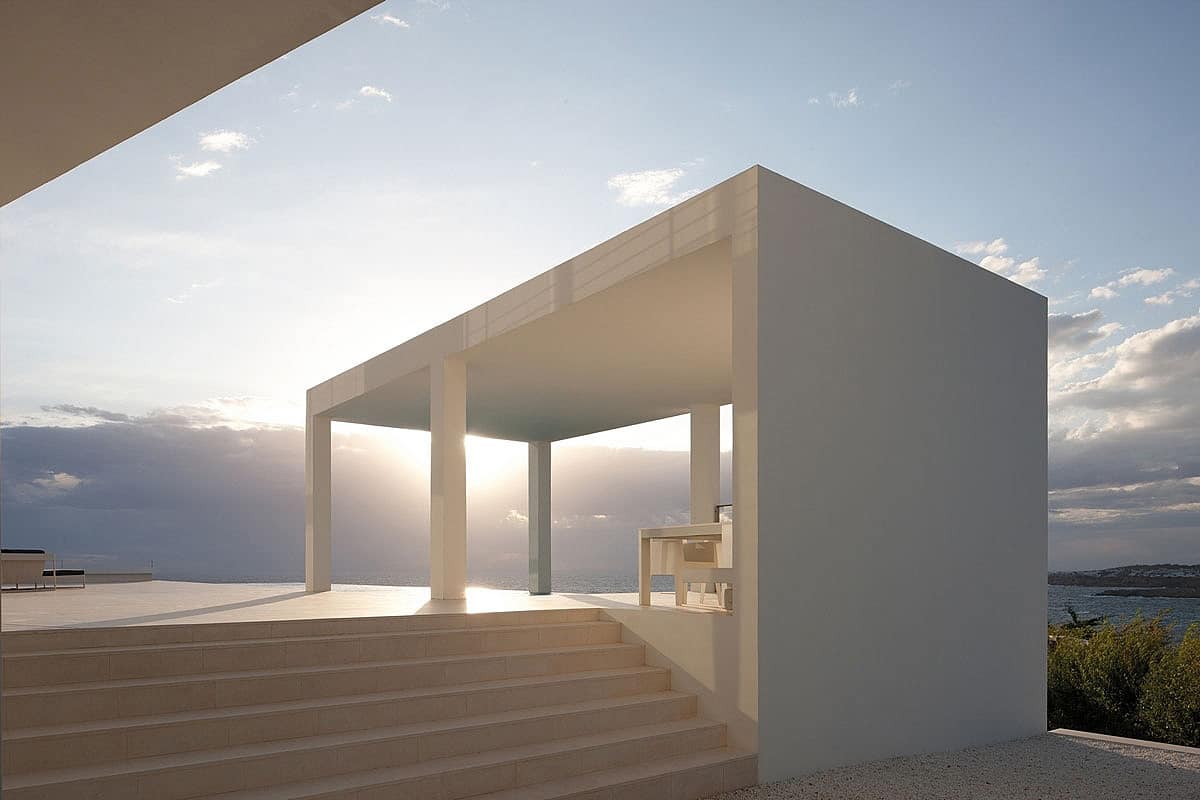 © AABE – Atelier d'Architecture Bruno Erpicum & Partners
At its best, the concept is realized when, on entering the house, from the first instant views are there from the living hall, across the pool deck and beyond to the landscape. In the same way, when we get the impression that the the room extends to the outdoor terrace, because architectural elements merge the two spaces, that is minimalism in its best form. One can say that minimalist architectural represents these sensations as an integral element and perfectly embodies the serene and relaxed feeling that Ibiza stands for.
We have seen that there is an undeniable connection between the two architectures. Therefore, it makes all the sense in the world here to invest in simple and austere standards, as it is found in the roots of Ibizan architecture.
Referencias/ Fuentes:
FERRER ABARZUZA, A. (1974). «La casa campesina de Ibiza». Madrid: Narria.
FERNÁNDEZ, R. (1998). «El laboratorio americano». Madrid: Editorial Biblioteca Nueva
CUERDA, Mª Concepción. La vivienda mínima en España: primer paso del debate sobre la vivienda social. Scripta Nova [en línea]. 1 de agosto de 2003, Vol. VII, núm. 146(023) [fecha de consulta: 30 de agosto 2015] 
SERT, Josep Lluís (1973) «intervenciones de Josep Lluis Sert en la charla coloquio celebrada en el Museo de Arte Contemporáneo de Ibiza». Disponible en: Grup d'Opinió d'Arquitectes.
It is possible that the pictures and the content reaches us through different channels and is sometimes difficult to know the author or the original source of the content. Whenever possible we added the author. If you are the author of any content (image, video, photography, text, etc.) and do not appear properly credited, please contact us and we will name you as an author. If you show up in a picture and think it impugns the honor or privacy of someone we can tell us and it will be withdrawn.
Kelosa Blog editors are not responsible for the opinions or comments made by others, these being the sole responsibility of their authors. Although your comment immediately appears in Kelosa Blog we reserve the right to delete (in case of using swear words, insults or disrespect of any kind) and editing (to make it more readable) or undermines the integrity of the site.